Dive Ireland International 2015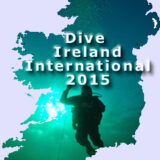 The Irish Underwater Council (CFT) in association with Lough Derg Sub Aqua Club are dive ireland 2015
delighted to announce the 24th Annual International Dive Show at the Abbey Court Hotel, Nenagh, Co Tipperary on the 28th February & 1st March. For divers, snorkelers and anybody interested in discovering a new world, dive Ireland International 2015 is the place to be.
Lough Derg Sub Aqua Club who are hosting the event are currently securing an unrivalled programme of the world's top diving speakers. All the latest dive equipment and gadgets will be displayed
with the expert speakers covering a wide range of interesting topic areas to cater for everybody's interests.
The CFT AGM and Diving Officer's conference will be hosted on day two of the Dive Show.
Source: www.diving.ie